An access code is a code which grants access to special inventory for a specific event. Access codes are most commonly required for tickets being sold during things like presales and membership-only sales.
Most events will not require you to have an access code in order to buy tickets; however, if you are eligible for an access code to any of SeatGeek's partner events, you will usually receive your access code through direct communications from the event promoter or venue themselves. SeatGeek does not give out or in any way disseminate access code information unless otherwise explicitly stated. Generally speaking, there are two main types of access code:
Type 1 -  Used to 'unlock' a presale:
This type of access code is used to gain access to tickets before they are available to the general public. Most of the time, presales are for fan-club members, season ticket holders, and subscribers to major sponsors of the event. If you are eligible for this type of access code, you will most likely have received an email or other form of communication from the performer, venue, or sponsor with the code and details. 
Type 2 - Used to view special inventory for an event:
This type of access code is used after an event's presale to access special inventory that the venue or event promoter has set aside. Oftentimes, this type of access code will grant access to inventory that falls under a special offer (like a buy-one-get-one offer from the promoter).
How do I use my access code?
Using an access code is easy! Here are some step-by-step instructions on how to use access codes by type.
Type 1 - To 'unlock' a presale:
1. If you have an access code for a special event presale, look up your event on SeatGeek where you will see something like this: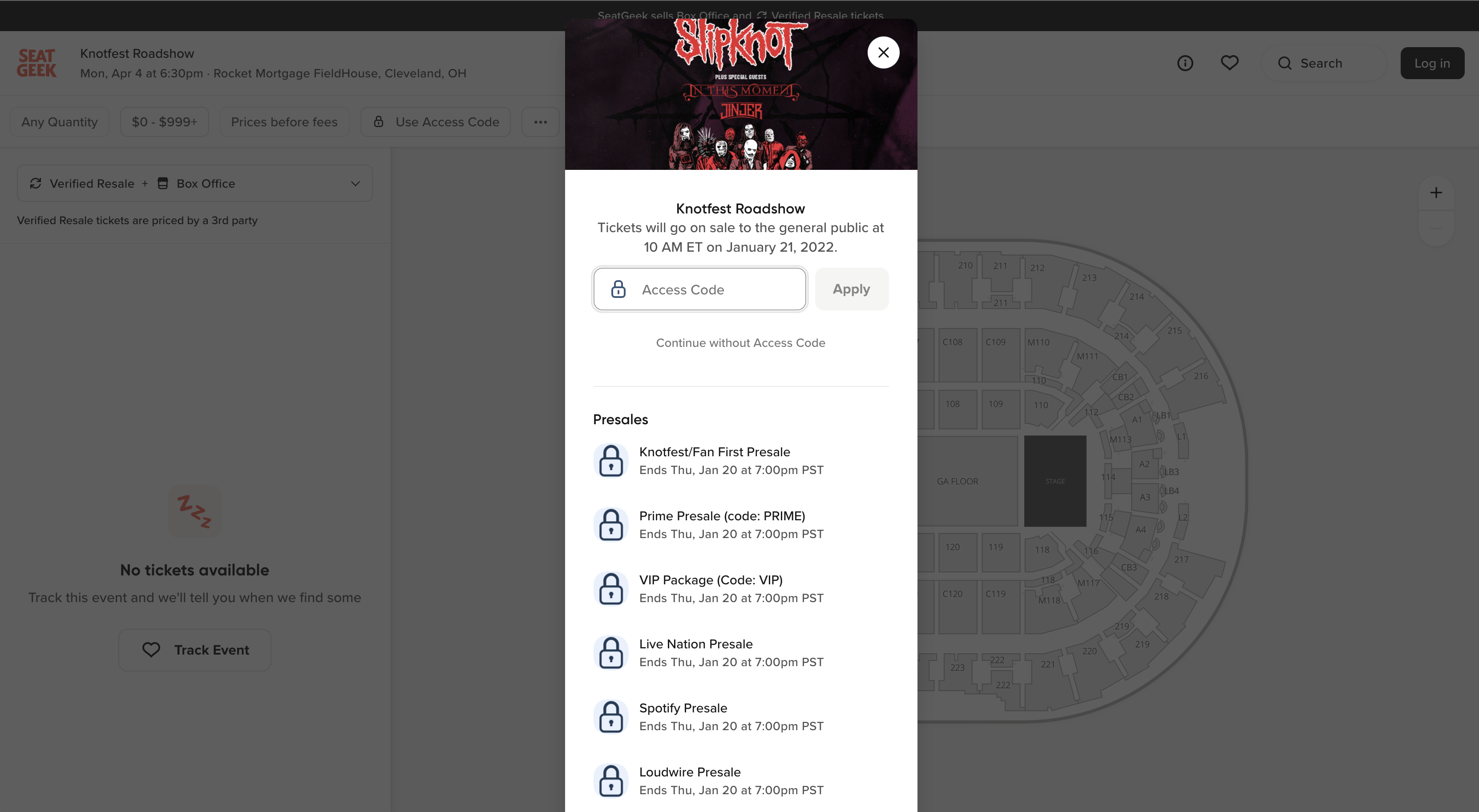 2. If there are multiple presale options like there are in the image above (Knotfest/Fan First, Prime, VIP Package..etc), click on the specific presale that matches your access code.
3. After choosing your presale, or if there is only one presale, you should see the following screen: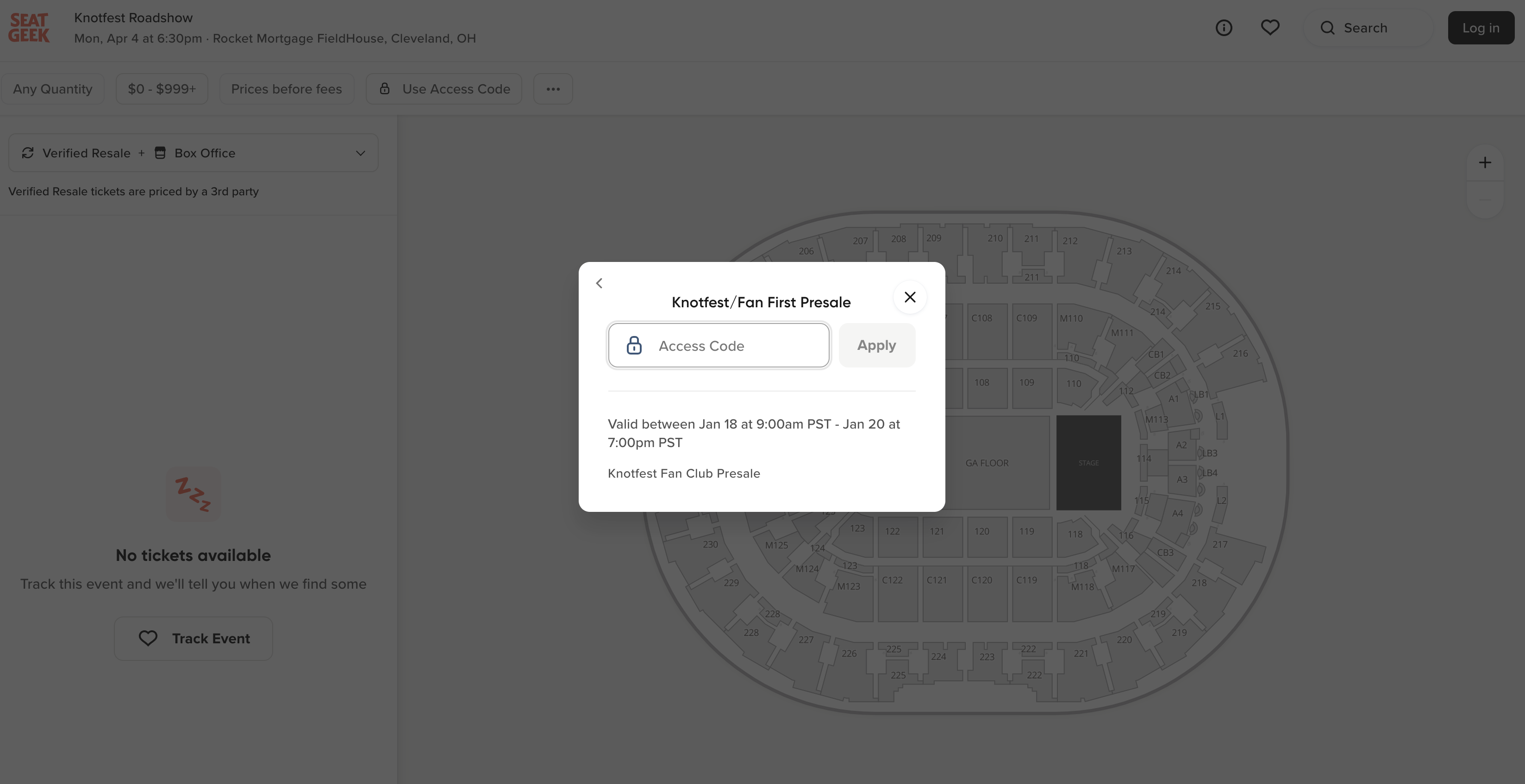 4. Enter your access code and click "Apply." You should now have access to the full list of available and eligible tickets: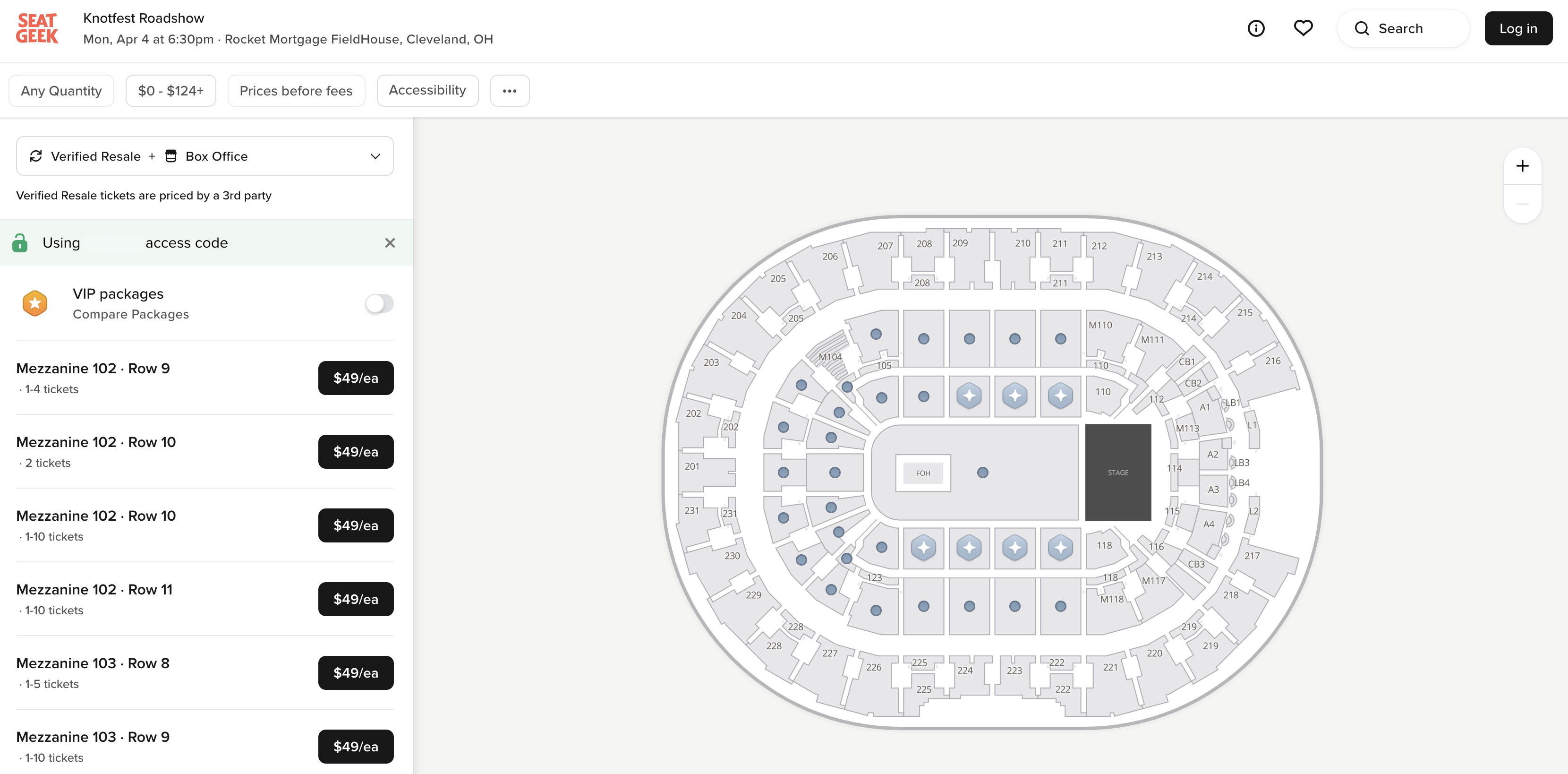 ---
Type 2 - To view special inventory for an event: 
1. You'll start by looking up your event on SeatGeek. You should see an event page that shows all public listings for this event, and a button that says "Use Access Code" like in the image below: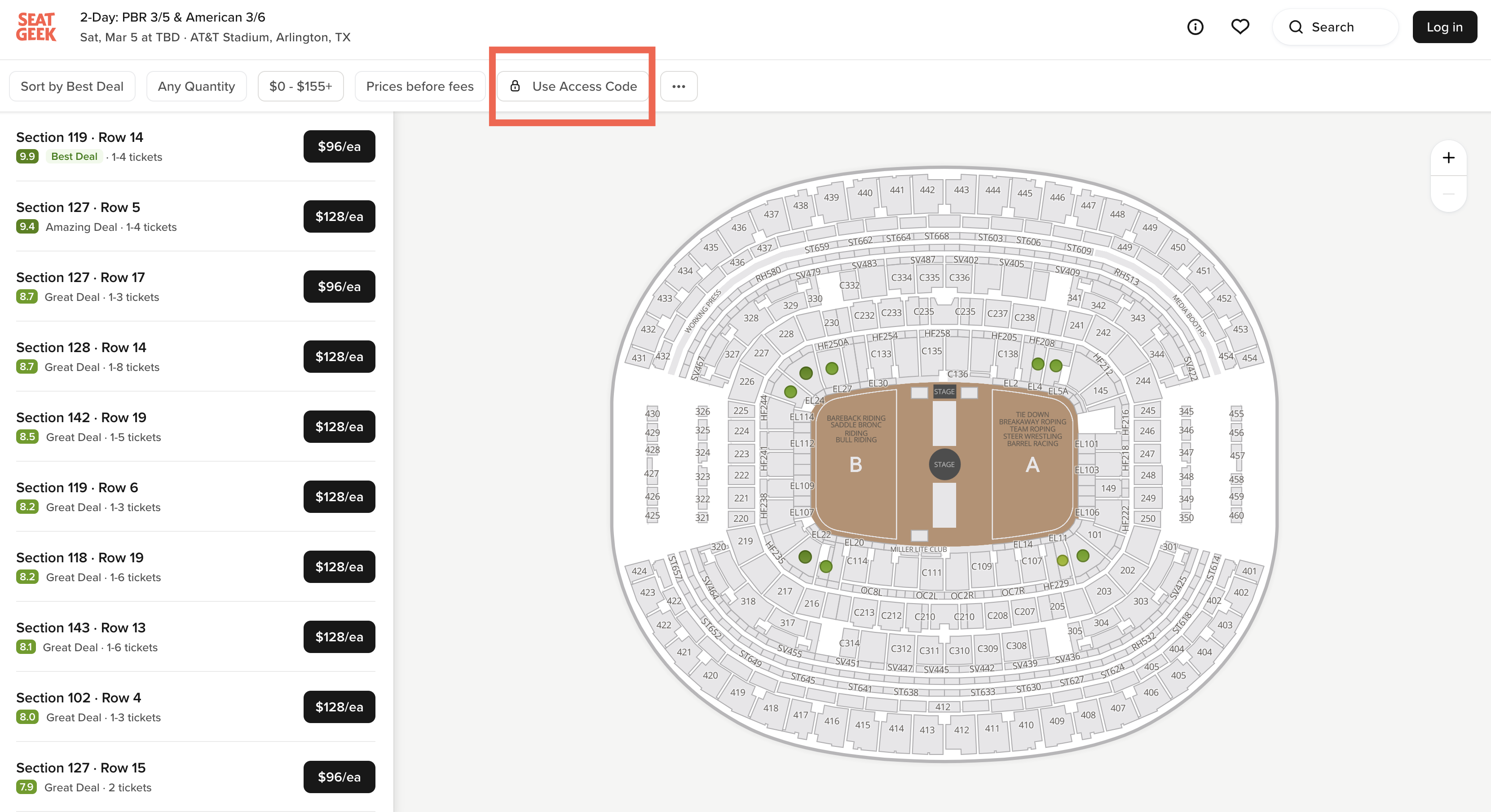 2. Click "Use Access Code."
3. You should now presented with a small window where you can enter your access code: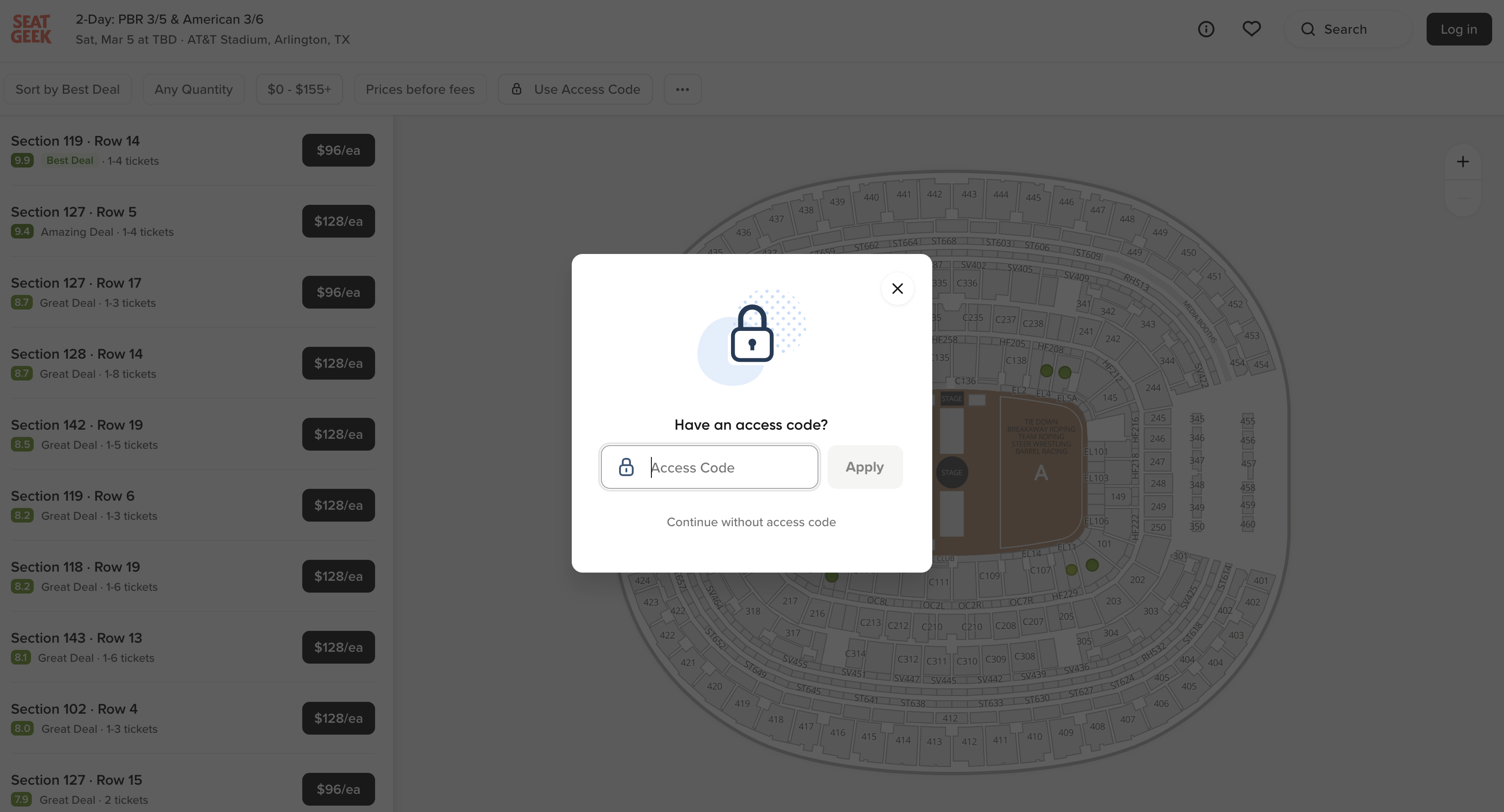 4. Enter your code and hit "Apply."
That's it! You should now see a new list of tickets that match your access code. 
Note:
You can make sure that your access code is applied properly by looking that the top, left-hand side of the screen. If you see a small green banner that says "Using Access Code" or "Using (your code name will show here) Access Code," then you are all set!
What's the difference between an access code and a promo code? 
Great question! Let's break it down:
An access code is a code used to gain access to special ticket listings for a single event. You can think of it like a "secret codeword" you might give a doorman at a members-only establishment or your proof of invitation to a big party. Access codes are "invitation only" so you will need to be part of an eligible group (eligibility varies widely by event) in order to receive one. 
A promo code is a one-time-use code entered at checkout to get a special discount on your order. Promo codes are similar to coupons or vouchers and usually are not limited to use on a single event (some do have event-type restrictions but any restrictions to your promo code should be stated in the promo code's offer). For more information on promo codes and how to use them, check out this article. 
My access code isn't working: what should I do? 
First, make sure that you are entering your access code for the right event, date, and time. It's pretty common for multi-day events to offer different access codes for each day. 
Second, double check that you are following all the instructions that came with your access code. Oftentimes, access codes will be tied to specific time slots and they will not work before the given sale time, or they may have restrictions on how many tickets can be purchased from the inventory they unlock. 
Third, make sure that you are entering your access code before choosing your tickets. Access codes almost always unlock a completely separate inventory so you'll want to enter the code first in order to see what tickets it will apply to. SeatGeek cannot apply access code offers to non-access code inventory.  
If you are still running into trouble, please contact us so that one of our Event Experts can help!