Do you have season tickets for one of the NFL teams below? If so, you can follow the links below for more team-specific FAQs!
---
What does this symbol mean when I am shopping for NFL tickets on SeatGeek?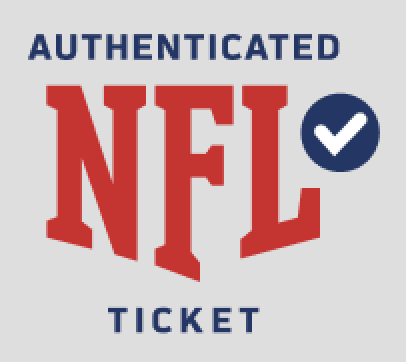 This means the tickets you're looking at are verified tickets! Verified tickets mean your tickets will be delivered straight to your SeatGeek app, and because they're connected to the team's box office, it's like you bought the tickets straight from the team. If you do have any problems at the gate, the box office has got your back.
Can I change the format of my NFL ticket to hardstock or PDF?
NFL teams have moved to mobile-only ticketing which means that your phone is your ticket! While we cannot provide you with a hardstock or printable ticket for these games, mobile tickets are the most secure way to get you into the game, and we're here to help make sure you can access them. This article will tell you all you need to know about NFL ticket delivery.
My tickets aren't showing up.
If you are an Arizona Cardinals, New Orleans Saints, or Dallas Cowboys Season Ticket Holder and have trouble viewing your season tickets, it may be because you haven't added them to SeatGeek yet.
Saints Season Ticket Holders click

here

.

Cowboys Season Ticket Holders click

here

.

Cardinals Season Ticket Holders click

here

.
It's also possible you have two SeatGeek accounts. Please check to ensure you're logged into SeatGeek using the correct email address here.
___________________________________________________
For all other NFL purchases, if your tickets aren't showing up, it's most likely because the seller hasn't fulfilled your order quite yet. If you purchased tickets well before the season begins, it may take some time for your barcodes to be uploaded. Check back closer to the start of the season, and if you still don't see your tickets, contact us! If you purchased tickets during the season, they should be fulfilled within minutes. If you don't see them right away, go ahead and reach out to us.
I'd like to change or cancel my NFL Ticket Order.
Since SeatGeek is a marketplace that lets fans of live events buy and sell tickets, we're unable to refund, cancel, or exchange tickets. The vendors that we list also have a general policy that all sales are final. If your event is canceled and not rescheduled, SeatGeek, in its sole discretion, will provide you with a full refund of the purchase price or, subject to applicable state laws, issue you a credit for use on a future purchase.
Can I pick up my tickets at the Box Office?
We highly recommend using your mobile SeatGeek NFL tickets to get into your game; they will be more convenient and help you avoid lines at the Box Office. However, if for some reason you can't get to your mobile NFL tickets on game day, the Box Office has your back! Make sure you provide the Box Office agent with your full name and photo ID and they should be able to get you through the gates. If you have any trouble, contact us.
How can I sell my NFL Tickets on SeatGeek?