SeatGeek is now the official fan-to-fan marketplace of the MLB! We are so excited to do our part for America's favorite pastime and the fans like you that make it possible. SeatGeek is designed to make buying tickets easy so that you can spend more time getting pumped up for the big game!
To buy tickets, enter your team's name or venue into the search bar on SeatGeek.com. You can also choose to browse in the MLB category as shown below.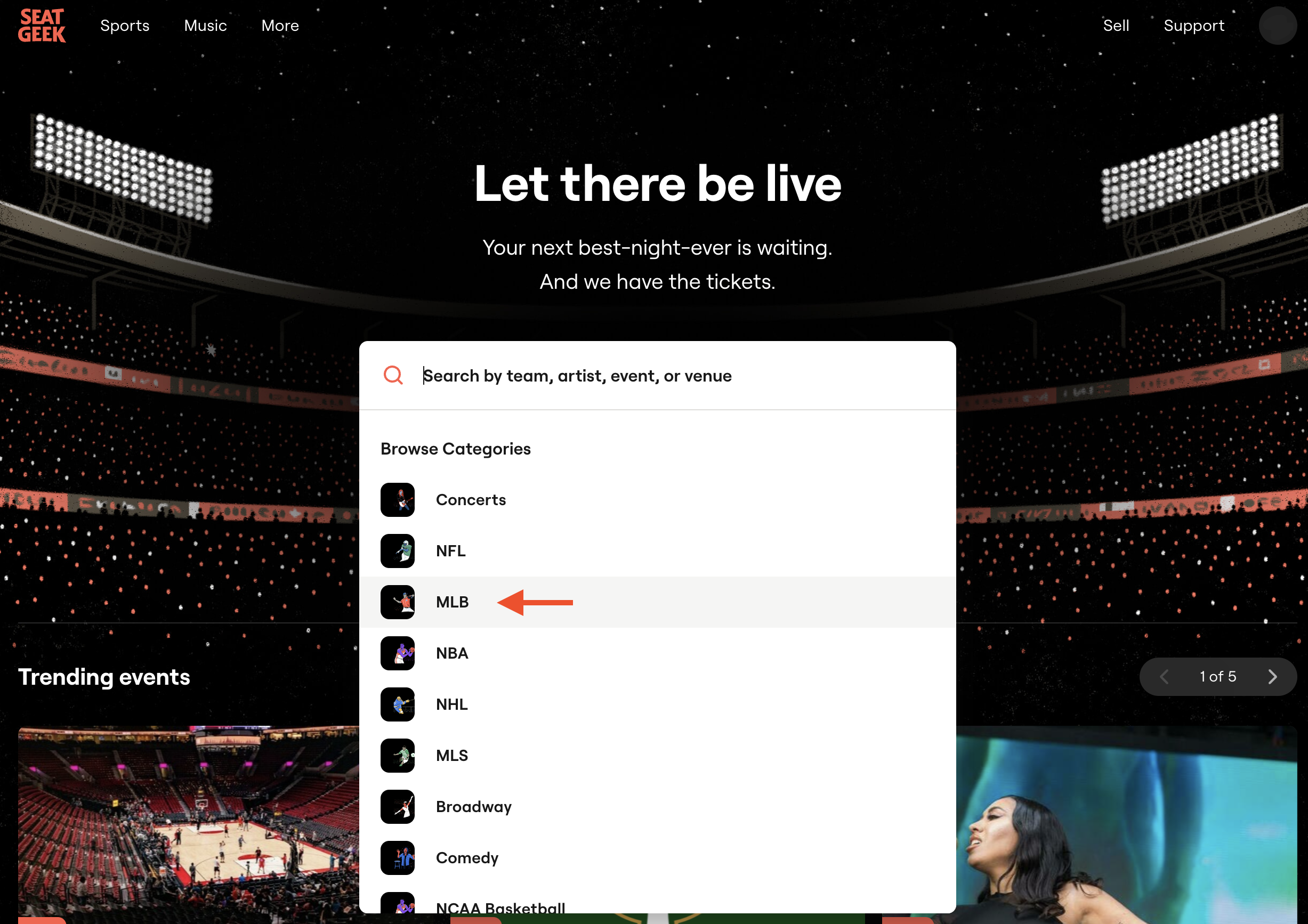 After that, select the game you want to attend and you'll be able to see all the available listings for that game!
Want to know more? Here are some answers to other common questions:
Why should I buy tickets on SeatGeek over another platform?
SeatGeek is the official, integrated fan-to-fan marketplace for the MLB! That means:

You get your tickets in seconds!

Starting after Spring Training 2023, every time you buy an MLB Ticket on SeatGeek, it will be instantly delivered to your SeatGeek account!

You get a new, secure ticket every time! When you buy an MLB ticket on SeatGeek, we work with the Clubs' box office to create a brand new barcode just for you. That unique barcode means that you're the only fan on gameday that gets access to your tickets.
You get top of the line support! From choosing the best seats to sitting in the stands, SeatGeek has a dedicated team of Event Experts who are here to help you 365 days per year.

Every purchase made on SeatGeek is fully backed by our Buyer Guarantee.
SeatGeek always tells you how good a deal you're getting with Deal Score.
Where does SeatGeek get these MLB tickets?
SeatGeek is a marketplace that connects buyers and sellers of live event tickets. Listings for MLB tickets come from season ticket holders, individual fans, sponsors, and highly-vetted ticket brokers.
Does SeatGeek charge fees on MLB tickets?
Yes. SeatGeek charges fees on most orders based on the location and the event itself. Taxes may also apply to your order if you are purchasing tickets to an event in a location which mandates sales and or entertainment taxes. You will see a breakdown of the delivery and service fees for your order before it's submitted. You can also search for tickets with fees included right up front. Check this article for more info on filtering listings with fees
These fees help SeatGeek keep the lights on, pay the sellers that list tickets on our marketplace, and continue to provide a great product for finding live events.
Does SeatGeek offer promo codes?
Yes! SeatGeek partners with some amazing people and organizations to distribute promo codes for first-time buyers. A quick internet search will surface a number of our influencer and marketing partners with special promo codes.
Additionally, SeatGeek and the MLB may run special offers at select times. Subscribe to notifications from SeatGeek in order to receive the latest info!
How will I receive my MLB tickets?
If you purchase your MLB tickets on SeatGeek, they will be made available in your SeatGeek account under Tickets! From there, you can manage, send, or sell your tickets directly through SeatGeek.
If you purchase your MLB Tickets elsewhere, they will be made available in your MLB Ballpark app or Team-specific account.
What happens if I buy MLB tickets and the game is canceled?
We get it. Rainouts, schedule changes, and many other factors can affect any MLB game. If you buy MLB tickets on SeatGeek and your game is affected, SeatGeek will follow the Clubs' policies and decisions. Check out our Buyer Guarantee for more info on canceled events and check out this article for more specifics.
What is SeatGeek's Buyer Guarantee?
SeatGeek has your back! Every ticket purchased on SeatGeek is 100% backed by our Buyer Guarantee:
Your tickets will be delivered in time for the event
Your tickets will provide valid entry to the event
The tickets you receive will be the same as those you ordered
If any of these things do not occur, you will be provided with comparable or better tickets to the event, or offered a refund. Please contact SeatGeek immediately.
If your event is canceled and not rescheduled, SeatGeek, in its sole discretion, will provide you with a full refund of the purchase price or, subject to applicable state laws, issue you a credit for use on a future purchase. We will notify you that the event was canceled and provide instructions on how to obtain the refund or credit.
If an event is postponed, you may use the tickets on the rescheduled date. If replacement tickets are required for entry to the event on the rescheduled date, SeatGeek will work to obtain replacement tickets for you. If you cannot attend the event on the rescheduled date, you are encouraged to list the tickets on SeatGeek. Except when replacement tickets are required, SeatGeek does not provide refunds for postponed or rescheduled events.
Where can I get help if I need it?