When at Cavaliers games and other events at Rocket Mortgage FieldHouse, you can place mobile orders for food or drinks via the SeatGeek app or the SeatGeek mobile website. This feature is a great way to conveniently place orders well before, and during your event without having to wait in line and miss any of the action.
Do I Need To Download The SeatGeek App?
You can place a mobile order for food and beverage via the SeatGeek app. We highly encourage you to download the SeatGeek app to make your experience as simple and seamless as possible.
Why Should I Allow Notifications?
We need to let you know when your order is ready! SeatGeek will send a notification to you before the event to let you know if mobile ordering will be available, and to remind you to place your order before the event. SeatGeek will also send you notifications as your order is being prepared and when your order is ready for pick up.
What Is "VenueNext" And Why Are They Listed On My Credit Card/Bank Statement?
VenueNext is the company that processes your mobile orders. Although you're ordering through SeatGeek, the transaction will go through them and VenueNext will appear on your card's statement.
How Do I Place a Mobile Order, And Pay For It?
You can use the credit or debit card information saved in your SeatGeek account settings to place a mobile order. You'll see the option to order in the lower righthand corner of the "Tickets" section of the SeatGeek app.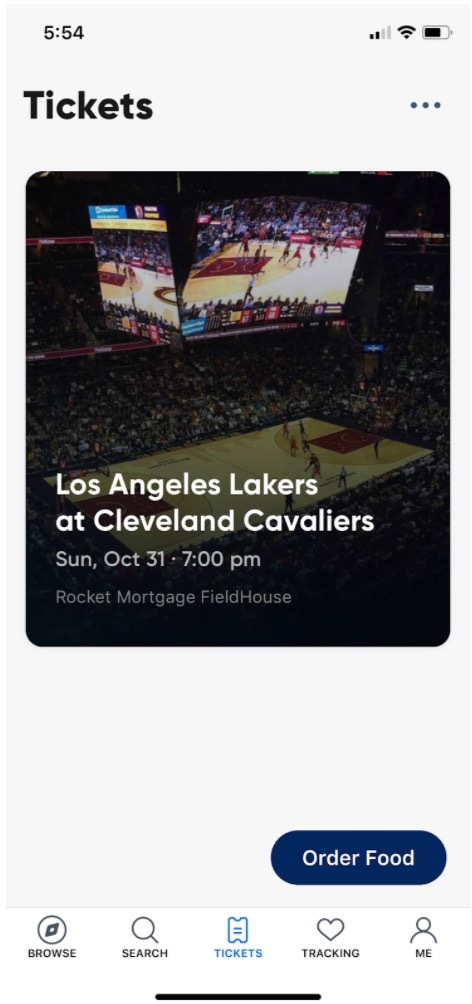 Once your mobile order is placed, you'll find a pass listed just below your ticket, again in the lower righthand corner. Tap on the pass for specific instructions on how and when to redeem your mobile order.
How Do I Modify Or Cancel A Mobile Order?
You will need to speak directly with the venue's staff about any issues with your order, or if you need to make changes to it. SeatGeek is unable to edit or cancel the order once it's been placed, but the Rocket Mortgage FieldHouse staff can edit or refund your order according to their policies.
How Will I Know When My Order Is Ready For Pickup?
Once your order is ready for pickup, you'll receive a push notification from the SeatGeek app letting you know the location of a pick-up locker for your food or beverage. You can then go to your locker, enter the code provided in your SeatGeek app, and collect your order! Be sure to enable notifications to receive updates about your order.
Who Do I Contact If I Have Issues With My Mobile Order?
You can ask the venue staff for help with your mobile order. This includes the venue employees at the concession stand, or reaching out to Rocket Mortgage FieldHouse support, and selecting "Mobile Ordering" from the drop-down menu here.
How Do I Get A Refund For A Mobile Order?
All refund requests should be directed to the venue staff at your event, or to Rocket Mortgage FieldHouse support, found here. You can contact SeatGeek if you'd like, but since the merchant of record is VenueNext, SeatGeek Event Experts will likely direct you back to them to Rocket Mortgage FieldHouse staff to resolve your situation. Venue employees will have direct access to your order.