You can resell tickets by visiting the "My Tickets" tab on our website or app, viewing the ticket details for a specific event, and clicking or tapping the "Sell Tickets" button. As long as the tickets you want to sell have been uploaded to your account first, just set your price and how you want the tickets to be split!
Visual learner? Watch how to sell on iOS, Android, and Web
Listing Tickets on iOS:



Listing Tickets on Android:



Listing Tickets on the Web:



How do I edit my listing or take it off the SeatGeek Marketplace?
If you'd like to adjust the price on your SeatGeek Marketplace listing, you can visit the "My Tickets" tab on our website and view the ticket details for the listing you'd like to modify. Update your listing with the desired price, how they're split, the quantity, in the designated fields.
In order to take your tickets off the SeatGeek Marketplace, visit the "My Tickets" tab on our website and view the details for the ticket that you would like to delist. Once on the ticket detail view, click the "Delist Tickets" button in the history section. You will be prompted to confirm your deactivation, once you agree your tickets will be off the SeatGeek Marketplace!
Visual learner? Watch how to list on iOS, Android, and Web above!
How long will it take to get paid after selling tickets?
We will send your payout after the event ends but it will take up to 5 business days for the money to appear in your bank account.

Why do I need to have a credit card on file in order to sell tickets?
We require all sellers to have a valid credit card on file but we will not charge it unless the seller is unable to fulfill their duties. In the unlikely case that there's an issue with the validity of the tickets sold, a seller's card may be charged a penalty as well as the cost to replace the tickets (up to 200% of the order cost).
When you list tickets on SeatGeek Marketplace, you may see a temporary authorization on this credit card. This is a security measure to verify the validity of your card.
Do you charge a seller fee?
You can upload and list your tickets for free on SeatGeek. If you sell that ticket, we do collect a small fee of 10%. This is to keep our platform healthy and running. When you type in the price for which you want to sell your ticket, you'll be paid whatever that price was, minus 10%.
The image below shows what you will see prior to listing your tickets for sale.  If you look here, you will see the exact amount you will be paid out.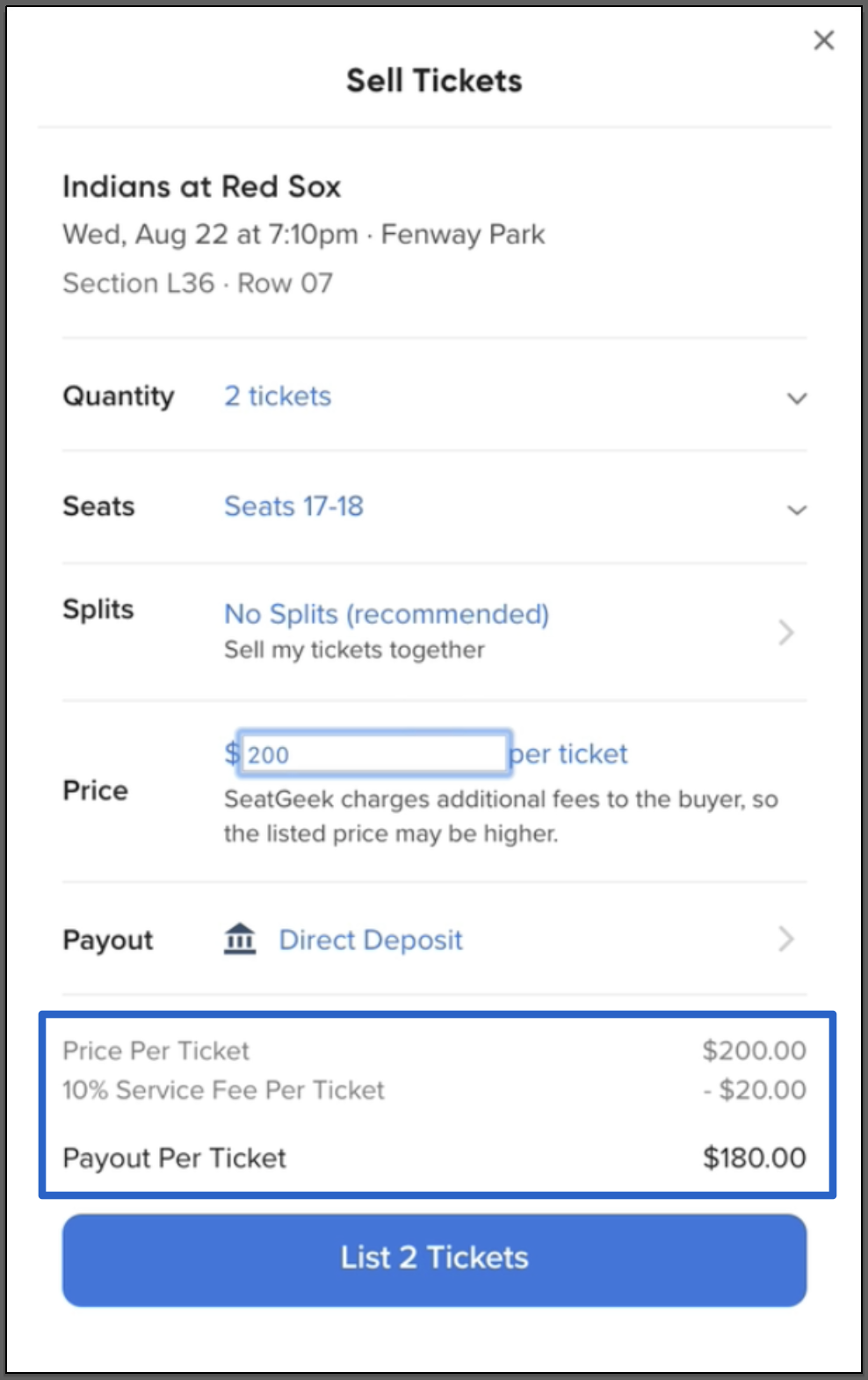 Noted Exceptions: Cowboys, Saints, and Sounders season ticket holders have a different seller fee structure.